Our Top Sportsbooks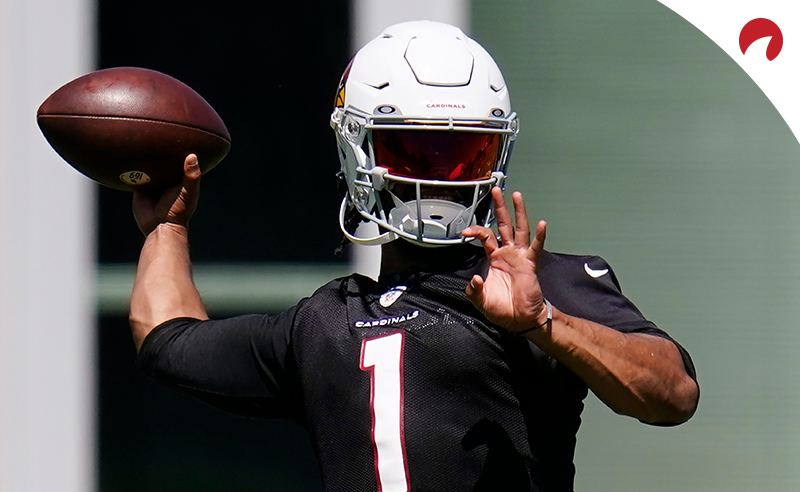 With the NFL season quickly approaching, there will be a ton of news to keep track of over the coming weeks. Injuries, trades, cuts and signings can all influence the NFL betting and props markets and this article will be your one-stop spot for all the latest happenings throughout the season.
New to betting on the NFL? Head over to our How to Bet on the NFL page. Or check out our breakdown and analysis of this season's Super Bowl odds, NFL MVP odds, Week 1 odds and much more.
Here's what is happening lately around the NFL with some insight into how we can take advantage of it from a betting perspective.
NFL Betting News And Notes
August 11, 2022
Jimmy GQ In Cleveland?
We know that Browns QB Deshaun Watson will be suspended for at least six games this season. And while we think Cleveland should be able to withstand those first six games relatively unscathed considering the easy schedule, the same can't be said if Watson's suspension is extended by several games.
That's why the Browns would reportedly "consider" bringing in Niners QB Jimmy Garoppolo if the suspension is increased, according to the Cleveland Plain Dealer. 
It shouldn't be surprising that the Browns would like to bring in Garoppolo in that scenario, he would be a sizeable upgrade on backup Jacoby Brissett. 
The Browns are currently +1 underdogs for their Week 1 game in Carolina and are carrying an 8.5 projected win total for the season. Both of these bets would need to be considered low if Garoppolo is brought in.
Roquan Smith Not Practicing
The Bears' star linebacker requested a trade recently amid a contract dispute and now appears to be sitting out practice despite reportedly being medically cleared to play. 
Bears head coach Matt Eberflus made some pointed comments about the matter stating "You'll have to ask him" when asked about the situation.
The Bears organization has been a disaster for a little while now and it doesn't look like much has changed despite having an entire new front office and coaching staff this season.
The Bears have a win total projection of 6.5 and it wouldn't be surprising if they fell under that. They are +6.5 underdogs in Week 1 at home to a San Francisco team essentially breaking in a rookie QB. 
Patriots Camp Struggles
Mac Jones and the Patriots offense have reportedly struggled mightily in training camp according to The Athletic's Chad Graff, who covers the team. "The point of concern is nearing," wrote Graff. 
This is certainly a troubling development for the Pats and second-year QB Jones, who by all accounts had a very good rookie season.
But, maybe the news shouldn't be overly surprising considering the Pats' lack of quality skill players and coaches now that Matt Patricia and Joe Judge have stepped in to replace now Raiders head coach Josh McDaniels and run the offense. Patricia and Judge had hilariously bad recent head coaching tenures with the Lions and Giants, respectively. 
Obviously we need to take camp stories with a grain of salt, but it's worth keeping in mind as the Pats win total is set for 8.5 and they are +2.5 underdogs in Miami in Week 1.
Seahawks QB Job Is Smith's To Lose
Seattle Seahawks coach Pete Carroll said QB Geno Smith will start the first preseason game for the Seahawks. 
Smith is already the presumed Week 1 starter for Seattle despite Drew Lock reportedly closing the gap in the QB battle, but this is the first real indication we have to suggest it's truly Smith's job to lose.
The problem for Seattle is it doesn't really matter who wins the job because the team is going to be terrible either way. We are leaning heavily toward to UNDER in Seattle's NFL win total of 5.5. They are +5.5 underdogs, a home, in Week 1 vs Russell Wilson and Broncos.
July 22, 2022
Cardinals Lock Up Kyler Murray
Arizona Cardinals quarterback Kyler Murray finally ended the stalemate between him and the team by signing a five-year, $230.5-million contract extension that includes $160 million guaranteed.
There was speculation throughout the offseason that Murray might have been unhappy with his situation in Arizona after a very 2022 controversy in which Murray unfollowed the Cards on social media and deleted all the team-related pics from his Instagram account.
That was followed by rumors that Murray might want to be traded or that the team might have to trade him if they couldn't reach an agreement.
A trade like that would have been a monumental shift in the league, flipping NFL betting markets on their head. Instead, Murray is now locked in long term.
But if you read our page on the odds to be the next NFL coach fired, we don't necessarily think the beginning of the season will be all roses for the Cardinals.
Jimmy GQ On The Move?
Continuing with the (at least theoretical) quarterback carousel, Adam Schefter reported this week that the Niners have given Jimmy Garoppolo permission to seek a trade.
Garoppolo counts for close to a $27-million cap hit, and the team is ready to hand the keys to the franchise over to 2021 top-three pick Trey Lance. Garoppolo has won a lot of games in San Francisco and led the team to a Super Bowl berth in 2019 as well as an NFC championship appearance last season, but the writing has been on the wall indicating his time with the team was limited after they spent a boatload of draft capital to move up and draft Lance.
However, it appears Jimmy G's options are limited. With Carolina acquiring former Browns QB Baker Mayfield, the game of musical chairs seems to have come to an end with only a couple of open seats: Seattle and Houston.
The Seahawks are slated to start either Drew Lock or Geno Smith at QB while the Texans are going with second-year player Davis Mills. Garoppolo would be an upgrade on all of them but if they do have any interest, it might make more sense to wait to see if the Niners cut him.
We will be following this situation closely, because Garoppolo landing on a team without an established starter will surely move the Week 1 betting lines.
Place Your Bets On The NFL Now!
Browns Sign Josh Rosen
One of the rumored destinations for Garoppolo was Cleveland with a suspension likely looming for Deshaun Watson. The Browns have journeyman Jacoby Brissett on the roster, but it would make sense for them to bring in Garoppolo if they knew Watson was going to miss most or all of the season.
However, the latest reports indicate Cleveland is not interested in Garoppolo and instead has signed former Cardinals first-round pick Josh Rosen to a contract.
The Browns now have Watson, Brissett, Rosen and Josh Dobbs under contract at QB as they await the fate of Watson.
From a betting perspective, we are staying away from the Browns right now in Week 1 odds, season win totals and props. Without knowing how many games Watson is going to miss, it is not worth betting on the Brownies right now.
Is Gronk Really Retired For Good?
The Tampa Bay Buccaneers signed veteran tight end Kyle Rudolph this week to a one-year deal, and while the move seems minor, many are speculating what this could mean for the possible return of Rob Gronkowski from his latest retirement.
Gronk announced this summer that he was once-and-for-all trading in his football cleats for Pit Viper sunglasses but many Bucs fans and media weren't buying it.
The Rudolph signing doesn't necessarily mean Gronk won't come back, but it's suddenly a fairly crowded tight end room in Tampa with Rudolph, Cam Brate and two newly drafted rookies.
Gronk's announcement that he was officially done changed Tampa's Week 1 line vs Dallas from -2.5 to -2 at some sportsbooks, so his status is definitely worth monitoring.
Saints Place Michael Thomas On Active/PUP List
The New Orleans Saints placed receiver Michael Thomas on the active/PUP list this week as he continues his long road to recovery from an ankle injury he sustained in 2020. The Saints vets don't report to camp until July 26, so it's possible he could be activated before then, and Ian Rapaport reported there is "some optimism" that Thomas will be cleared to return to the field during training camp.
But I'm at the point where I'll believe it when I see it with Thomas. His bum ankle has caused him to miss so much time that it's hard to be overly optimistic despite the reports of him looking better.
However, a return to the field could definitely affect New Orleans' Week 1 line (-5.5 at Atlanta) and his status is worth watching closely over the next couple of weeks for that reason.
Upcoming Events
Doc's Picks Service
Need more winning picks? Get $60 worth of premium member picks from Doc's Sports – a recognized leader and trusted name in sports handicapping since 1971.