Our Top Sportsbooks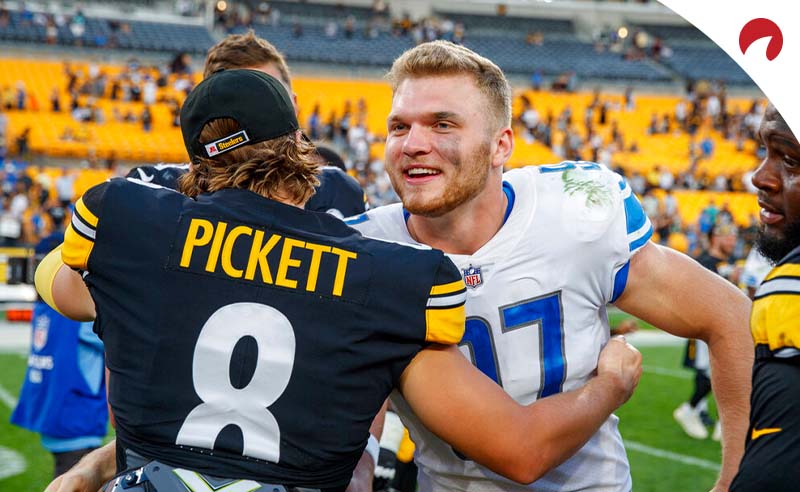 The biggest unknown around every NFL season is always the production of the rookies. Which first-year players are ready for the big leagues and which ones will wilt? 
We have our eyes on a few NFL rookie prop bets this season to capitalize on some youngsters who will have great first years as pros. Check out our complete selection of rookie props below.
You can find these NFL rookie prop bets over at our best NFL betting sites, including Bodog. If you're new to betting on football, check out our How To Bet NFL page to get up to speed or keep track of the latest Super Bowl odds.
Our Top NFL Rookie Prop Bets
NFL Season Rookie Props Picks 2022
Below find a complete selection of NFL rookie prop bets from BetOnline Sportsbook and Bovada, including some of our featured picks and breakdowns.
NFL Offensive Rookie Prop
Dameon Pierce OVER 5.5 TD (-115)
Dameon Pierce has gone from sleeper to must-have for most fantasy football players, and he's one of our favorite NFL rookie prop bets this season.
It seems like he'll be the starting running back for a Texans squad that doesn't have many other offensive options. If Pierce can stay healthy and stay atop the depth chart, he should have enough opportunity to pick up six scores this year.
NFL Defensive Rookie Props
Aidan Hutchinson OVER 7.5 Sacks (-115)
Despite limited reps in the preseason, it was quickly clear Aidan Hutchinson is ready for the NFL level. The Detroit Lions pass rusher picked up 0.5 sacks in his two games, and looks ready to enter the regular season looking for more.
Another reason to take this Hutchinson sack OVER is because of the Lions' scheduling advantage. Detroit and Hutchinson have seven games against teams with bottom-10 offensive lines, per Sharp Football. Facing off against weaker lines, Hutchinson should have plenty of opportunity to rack up these sacks.
2022 NFL DROY odds

| Player | Odds |
| --- | --- |
| Aidan Hutchinson  | +400 |
| Kayvon Thibodeaux | +900 |
| Travon Walker | +1000 |
| Kyle Hamilton | +1000 |
| George Karlaftis | +1200 |
| Ahmad "Sauce" Gardner | +1400 |
Odds as of August 12 at BetOnline Sportsbook
Sauce Gardner DROTY (+1400)
A defensive lineman or linebacker has won the NFL's top defensive rookie award in each of the last four seasons, so naturally the edge rushers top the odds this season. But every so often, a transcendent freshman defensive back comes along and steals the award.
Marcus Peters won it in 2015 and Marshon Lattimore in 2017, and now it's time for the Sauce. Gardner will be the Jets' best defensive player, and if he can lock down opponent WR1s and nab a few interceptions, he could vault himself to the top of this list of rookie defenders.
You can find more DROTY picks and a complete odds breakdown over at our Defensive Rookie of the Year page.
Add Another NFL Sportsbook To Your Roster
NFL Rookie Kicking Prop Bets
NFL Most Kicking Points

| Player | Odds |
| --- | --- |
| Justin Tucker | +700 |
| Matt Gay | +1000 |
| Harrison Butker | +1000 |
| Tyler Bass | +1000 |
| Cade York | +7500 |
Odds as of August 30 at Bovada
Cade York Most Kicking Points (+7500)
The top drafted kicker in the 2022 NFL Draft, York has won the Cleveland Browns' starting kicker job and could quickly become one of the best legs in football. The young kicker was 5-for-5 in preseason extra-point attempts and 5-for-7 in field goals. His only two misses came from over 50 yards.
The Browns are the type of team that could set up a kicker to have quite the season, too. They have enough offensive weapons to score points, but without dominant red-zone targets and with question marks at QB early in the season, they may have to settle for plenty of field goals.
2022 NFL Season Player Props
There are props available for numerous positions and categories, so make sure to check out all of Odds Shark's content for each group before placing your bets.
2022 NFL Rookie Betting, Odds And Futures Preview
If you're looking for more NFL betting markets or wagering resources, check out our featured pages and picks below:
NFL Rookie Prop Bets FAQs
Who was the first pick in the 2022 NFL Draft?
Travon Walker was the first overall pick in the 2022 NFL Draft. The Jacksonville Jaguars selected the linebacker out of Georgia, after Walker and the Bulldogs won the college football national championship.
Which rookie is the favorite to win offensive rookie of the year?
Steelers receiver George Pickens was the preseason favorite to win NFL Offensive Rookie of the Year. The former Georgia WR was selected in the second round of the 2022 NFL Draft by Pittsburgh and will catch passes from Mitch Trubisky and fellow rookie Kenny Pickett.
Which rookie is the favorite to win defensive rookie of the year?
Lions defensive end Aidan Hutchinson was the clear preseason favorite to win Defensive Rookie of the Year. The former Michigan pass rusher was selected second overall in the 2022 NFL Draft after racking up plenty of sacks for the Wolverines in college.
Upcoming Events
Doc's Picks Service
Need more winning picks? Get $60 worth of premium member picks from Doc's Sports – a recognized leader and trusted name in sports handicapping since 1971.